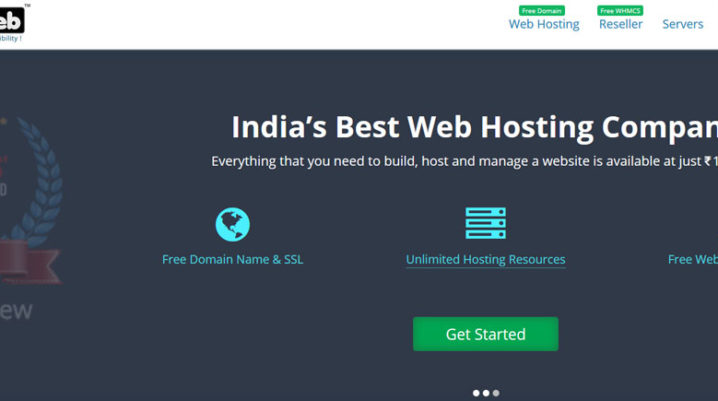 With the rising pace of entrepreneurship, India has been turning to a startup hub. There has been tremendous growth of startups in India in the last decade, especially in the IT sector. Not only startups are coming to the market with the launching of applications on play stores, but an equal importance is given to the launching of websites that provide the equivalent service.
Moreover, with the ever increasing growth of use of Internet, there has been impressive growth in the services provided through websites. Hence, websites are now seen as a primary source for reaching out to mob in a quicker way.
Websites are built by combining front-end(HTML, CSS, Bootstrap) and back-end development(ASP, PHP). Once the development is over, the next step needed to launch a website is buying a domain & hosting it. The terms "domain" & "hosting" are familiar to the technocrats. For people who have no technical knowledge of these terms, let's take a look at what these terms actually are :
Domain : Domain is nothing but the name that appears on the address bar of your browser. For example, when you are using Facebook on your browser, you can see "facebook.com" on your browser. This is nothing but a domain. A domain refers to the unique name which will be used for accessing your website. There are many vendors that sell domains.
Also Read: Guest posting sites
Hosting : Once you've purchased a domain(i.e. a unique name for your website), you need to make sure that anyone can access your website using your domain URL. Thus, this process of making your website accessible via your domain name can be referred as hosting. Technically, hosting a website means storing a website on a server so that it can be served through Internet.
There are many companies that provide hosting services. They actually have their own servers where they host your website on and charge you for the service, mostly on yearly basis.
One such most promising hosting service provider is MilesWeb.
MilesWeb is considered as the India's best web hosting company. Despite from hosting service, it also provides services like building a website without any requirements of technical knowledge by simply making use of themes and templates provided by them . Moreover, it also offers the service of buying a domain. Thus, it is considered as the most promising one-stop-place for launching website – right from building to hosting it.
MilesWeb offers hosting service with three premium plans –
The plans come with the variations in the features provided like numbers of website hosted, free domain, SSD Disk space, bandwidth, SSL Certificate, SpamExperts, cPanel, MySQL Database and Email accounts. The following image shows the plan details :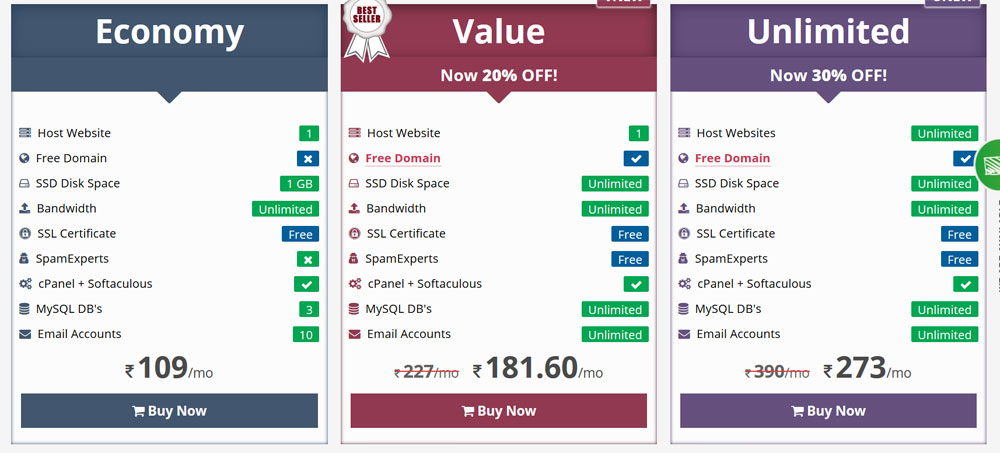 Lets take look at what these terms actually mean.
SSD storage : The hosting companies like MilesWeb own servers upon which they provide hosting services. The servers can have two types of storage : HDD or SSD.
SSD(Solid State Drives) are usually much faster than HDD(Hard disk drive) in terms of performance and thus these drives affect the overall performance of the servers.
All the servers of MilesWeb are powered with SSD Drives which are 20 times faster than the traditional drives. Thus websites hosted on SSD servers loads faster than those on traditional hard disk drives.
SSL Certificate : SSL(secure socket layer) is a protocol that provides encryption. SSL Certificates provide secure encrypted communications between server and browser.
MilesWeb provide free SSL Certificate that secures your website and improves its ranking. A green lock and a https protocol can be seen in the web browser.
Besides this, MilesWeb also provide other benefits which are as follows:
Secure Email Accounts : MilesWeb loggers the service of supporting POP3 / SMTP / IMAP protocols to send and receive emails. You can use email clients or web mail to access the emails.
cPanel : MilesWeb provide cPanel contra panel that is used for managing every aspect of your linux web hosting account. You can add domain, sub-domains, add-on domains, emails, database etc.
Pro website builder : MilesWeb has more than 200 professional and responsive website templates that can be used for building website no time without need of technical or coding skills.
1-Click Installer : This feature of MilesWeb allows you to quickly install applications like WordPress, Joomla, Drupal, Magento, and over 400 such latest apps using Softaculous one-click installer. It's integrated into cPanel control panel.
LiteSpeed Web Server : MilesWeb make use of LiteSpeed server which is more faster and scalable than Apache web server. LiteSpeed easily handles thousands of connections with minimal memory consumption and CPU usage.
Built-in Page Caching : with MilesWeb, you can accelerate your website performance with LiteSpeed cache. You can enable caching feature for your website to serve web pages faster to your site visitors.
Daily Website Backup : It is important to keep the records of data of website. hence, MilesWeb provides automated backup system that takes daily backup of your complete web hosting account on a remote server.
Anti-spam Email Filtering : MilesWeb makes use of SpamExperts that protects your inbox from spam mails. It's capable of blocking the spam emails before it reaches your network.
Datacenter Choice : MilesWeb provides you the choice to choose your server location. Since they have hosting services in India, UK, US and Romania for the same cost, you ca choose your preferred server location at the time of sign-up.
Live Chat Support : MilesWeb provide the service of Live Chat support which means that someone from their team will be guiding you the next moment you have a query. No need of waiting for reply. Thus, with instant chatting feature, you rescue your problems with help of chat officers.
Besides this, the hosting services on MilesWeb are relatively cheaper as compared to the other web hosting providers. The following figure illustrates the features available on MilesWeb and other hosting providers.
Considering everything stated above, it can be concluded that MilesWeb is the best web hosting provider that provides other features as well.