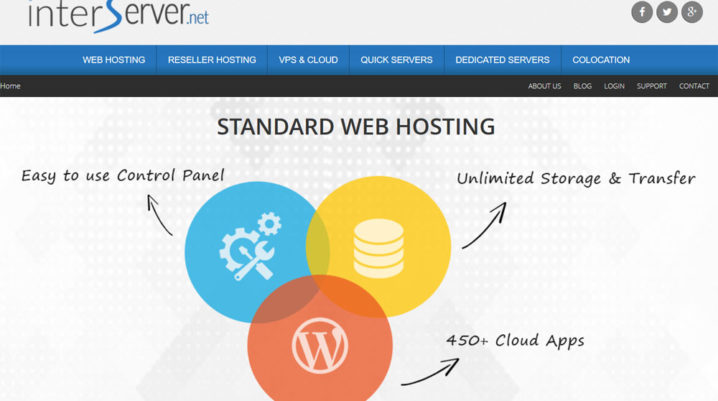 Are you looking for affordable web hosting with top-notch customer service?  Well, InterServer is something that you have to consider for your website. Just go through our review before making your choice. A variety of packages are being offered by InterServer, some of them are dedicated hosting, shared, VPS hosting, etc. It has got a huge customer base, the first thing that impresses you to take InterServer is its network. Their clients range from startups to Fortune 500 companies, so you can keep trust in their hosting plans. The price guarantee is one of the biggest perks that you get by choosing InterServer.
Why choose InterServer?
The amount that you pay while choosing a hosting package is the price that you will continue to pay even during renewal, its customer service team is highly responsive.
InterServer webhosting options
Every hosting option provided by InterServer is a profitable one, its hosting plans beings at reasonable price per month while providing unlimited access to websites, emails, storage, etc. Let's look at the services and packages offered by InterServer for its beloved customers.
VPS( Virtual private sector) hosting
Shared
Dedicated
Reseller Hosting
Each and every hosting package provided by InterServer comes with daily backups which helps the users to recover entire information in the situation that there is a disaster.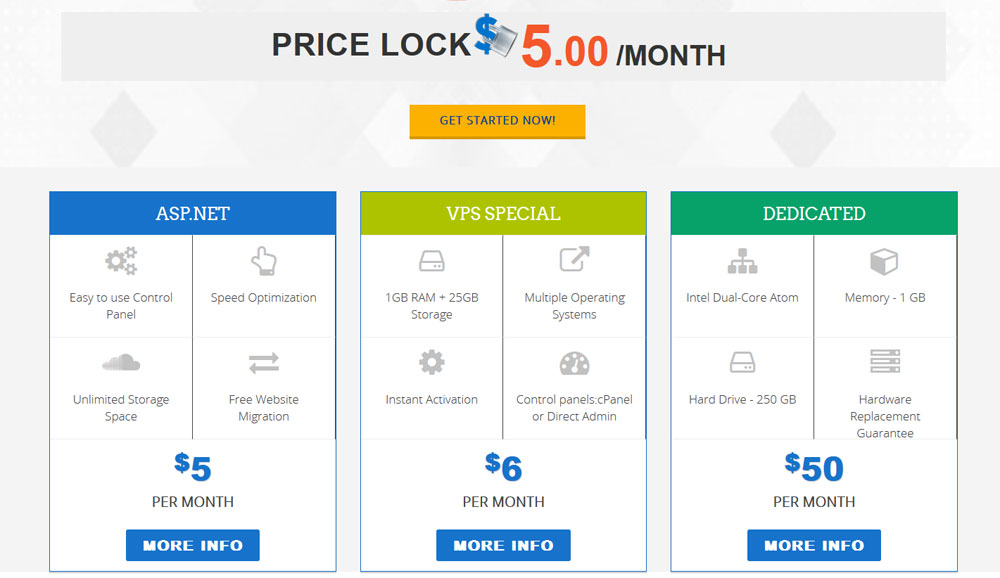 Benefits of InterServer VPS cloud hosting
It is better to choose InterServer if you are looking for solid VPS hosting plans at a low cost. It suits best for handling big scale projects. Both Linux and Windows cloud VPS plans are offered by InterServer, you need to select a perfect package depending upon your usage. VPS hosting servers are located in the United States; you can customize hosting plans. Coming to the low points in this hosting plan, you need to take back up manually and there is no money-back guarantee for VPS plans.
Shared web hosting
InterServer Share web hosting includes a wealth of features with 24/7 customer support, the package cost is very low when compared to other hosting providers. While the basic plan starts at $5 per month, you can avail discounts on long term offers. InterServer gives you unlimited storage, email, website, a free SSL certificate for shared hosting plans. Its data center is equipped with necessary plans to provide power uptime and network uptime guarantee.
Affordable Dedicated hosting plans
InterServer manages to keep your server 100% up most of the time, there are plenty of good things to say about dedicated hosting plans. This is the best option if you need your own dedicated resources. A variety of configurations are available with dedicated hosting plans so that you can customize plans according to your needs. The hosting response rate will be beyond your expectations. Enjoy speedy login at pretty low price.
Reseller Hosting
Although technology has changed from the time InterServer started its operations, the quality and support for reseller hosting has been same till today. The web-based manager available in InterServer reseller hosting plan helps to easily control you're hosting, Instant account setup enables you to make some bucks with the best reseller web hosting packages. Price lock guarantee in reseller hosting plan ensures that the price you start with will continue to be as your price label until you continue with them.
What is good about InterServer?
InterServer provides exceptional service to its customers and is the leading choice for many companies today. The following are the plus points of this hosting service provider.
Also Read: Guest posting sites
No doubt that you will experience impressive hosting performance, the platform is really well built and doesn't over load its servers.
InterServer hosting plans are brilliant with 100% power uptime; it gives a 100% guarantee of uninterrupted electricity.
It is well known for providing low hosting packages.
The customer service department assists you 24/7 through phone support, live support or email tickets.
What's bad about InterServer?
Money back guarantee does not apply to all hosting plans; this is somewhat a disappointing thing for customers.
Final Words
With almost two decades of experience in Hosting business, InterServer is a very good hosting provider and choosing it for your business depends upon your budget.