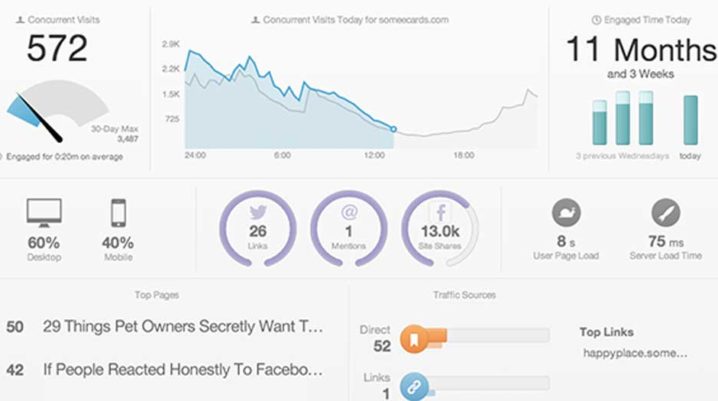 Once your website is live, you start thinking about its performance. You want to know if it is actually working. There are several things that need to be considered in this respect. Right from knowing if your website had any visitors to where they are coming from, the pages they prefer visiting, and the time period they like to spend on the site, there's a lot you need to consider.
Not having a direct insight to activity of your website may be frustrating at times. Luckily, there is a tool that can help you have a deeper insight of all that's happening to your website and visitors. The tool is called Google Analytics. Having a Google Analytics Plugins for WordPress is the best solution.
Listed below are top 6 Google Analytics Plugins for WordPress:
Google Analytics+ Plugin
A gift to WordPress users from WPMU DEV, it is considered as one of the best introductions in the world of Google Analytics plugins. It simplifies the process of getting the Google Analytics tracking code onto your site. online shopping  lt allows users to add data to their site or a network of websites to WordPress dashboard.
Google Analytics Dashboard for WordPress Plugin
It is the archetypal Google Analytics plugin that works towards adding tracking code to a website to pulls key statistics into your dashboard. This plugin fits in a single widget on dashboard. The configuration depends on the user. This can be done according to the type of timeframe, statistic, and distinctive dimensions to be displayed. Google Analytics Dashboard for WordPress Plugin also functions well works with multisite.
Analytify Google Analytics Dashboard Plugin (Free)
The plugin makes it very easy to set Google Analytics up on a website. This is not all. It comes with an amazing dashboard widget. The layout is very simple and informative. It comes equipped with a very big, clear, format which is easy to follow. The main focus here is on the key statistics one requires staying on top of. If you need to know more so feel free to ask us with any question: jiteshmanaktala.com
Enhanced Ecommerce Google Analytics Plugin for WooCommerce
It is very different from the archetypal Google Analytics plugin. The plugin will get ecommerce-specific analytics pulled into dashboard to allow you to stop bouncing back and forth between your website and Google Analytics.
MonsterInsights Plugin
It is renowned for granular tracking abilities capabilities. Unlike most plugins that are effective in showing only standard statistics from Google Analytics such as referral sites, real-time visitor number, per-page performance etc., Monster Insights is one step ahead and shows file downloads, internal tracks links, and affiliate and outbound track links. Apart from standard statistics, ecommerce sales are also displayed by this plugin. For those serious about making money on their site, this plugin will offer some excellent features such as conversion tracking.
WP Google Analytics Events Plugin
It has an amazing event-tracking functionality. This is quite helpful if you are trying to determine the efficiency of a particular set of breadcrumbs. The plugin also helps if you have been following certain steps you've established as a part of conversion strategy. For those aiming for studying analytics of their website to determine what's happening with the clicking and scrolling resulting into a conversion. Thereafter, you can use WP Google analytics events plugin to take along that specific data into WordPress.